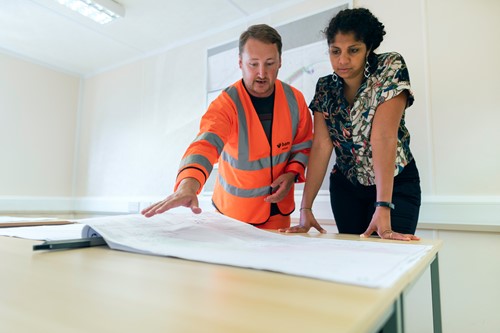 Photo by ThisIsEngineering via Pexels
Many of the open floor plans and spacious kitchens require only minor adjustments to meet the Americans with Disabilities Act (ADA) standards. Although ADA considerations might not be on a contractor's or architect's radar when drafting state-of-the-art blueprints, there are persuasive reasons to build accessible new construction homes.
1: ADA-Compliant Kitchens Can Increase Listing Prices
Open floor plans that include spacious kitchens with center islands have been hot-trending for at least a decade. Sources such as This Old House report that kitchen remodels top the list of home improvements. The return on investment is reportedly 87% for a minor upgrade and 80% for a complete overhaul. By meeting the simple U-shaped dimensions set by the ADA and ergonomic countertops and amenities, new construction kitchens deliver a highly sought after layout that everyday people know comes at a premium.
2: Archways Instead of Doorways Create Balanced Living Spaces
Not every prospective homeowner gravitates to the purely open floor plan. The experience of seeing everything and everyone throughout the common area is not always appealing. There are times family members want a little privacy. With that in mind, new homeowners tend to think that in terms of an either-or scenario. Either you get an open floor plan or include doors that can make the living space feel smaller, even cramped.
One of the solutions that also lends itself to increased accessibility is to incorporate archways instead of doorways. These wider openings typically create a sense of balance between wide-open space and reasonable privacy. Someone can curl up with a good book in the family room or work in a home office while another resident enjoys a beverage in the eat-in kitchen. By that same token, people who use wheelchairs or walkers won't have to negotiate tight doorways. A new construction project that leverages archways instead of doors offers a balanced quality of life environment suitable for everyone.
3: Smart Technologies Deliver State-of-the-Art Convenience
New construction home builders are increasingly tasked with integrating hot-trending technologies into residential structures. Millennials comprise the largest home-buying demographic at approximately 38%, and this generation grew up in the technology age. Many expect the conveniences of the internet, Bluetooth and smart technologies to be part of their living spaces. These same innovations are perfect for improving accessibility for aging community members and those with disabilities. These are prime examples of smart technology that make sense for wide-sweeping demographics.
Smart Thermostats: These devices allow homeowners to warm or cool homes from cell phones and other devices before arriving.
Smart Lighting: Exterior or interior lights can be controlled remotely. This means people with physical limitations won't have to fumble around in the dark.
Smart Blinds & Curtains: Privacy is increasingly easy when blinds and curtains can be managed electronically from a wheelchair or remote device.
The bottom line is that new construction may be driven by "starter home" thinking at times. But many of the accessible layout, design and amenities provide proven benefits for community members at large. Including these and other accessibility options only improves the peaceful enjoyment of a home and its resale value.